About Arashi Yuka
Do you want to know if Arashi is my name?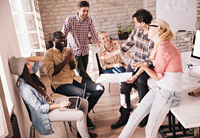 The truth is that no, I'm sorry, and I do not have a moving or exciting story that makes me opt for such a complicated pseudonym. I remember that a few years ago, when I was a child, my interest in becoming an artist began to awaken ... I needed a pseudonym! That's how my passion for idols like Takeshi Obata or Akira Toriyama brought me a first name that sounded a little "Japanese".
I have looked for some spectacular event to compare with my birth in 1992 but, unfortunately it was a year of misfortunes so, if you like, we continue.
I currently live in Cantabria, Spain, and although design and passion for pop culture have been present in my life for many years, it was not until September of 2017 that I decided to formalize the project and I founded arahiyuka.com. The main intention has been to create a space in which to connect and show the different stores where each design that I made is available.
I declare myself a parody lover focused on series, movies, cartoons and video games or famous people. I also feel like a fish in the water recreating scenes from everyday life while I can approach them from a funny perspective.

Like many spectacular artists, I trust all process of stamping each article in prestigious companies such as Tostadora or TEEPUBLIC. It is true that the benefits for the sale are less than if I took care of the whole process, but for now this is what gives me time to draw, and there is no greater truth than that time is money... I'm looking for balance.

For now, I can not say much more, only that I live every moment with the illusion that I am doing what I like to do the most. Who knows ... maybe in the future and if everything goes well, I can afford to open my own independent store to continue fighting.
If you still have doubts about me, about what I do, how I do it, if you want to know something else or just say hello, do not hesitate to do it from the contact section, I will appreciate it.
Subscribe to the NEWSLETTER
Stay informed of all the news and get private discounts of up to 10% on your next purchase. About Arashi Yuka.