Decorative Paintings
I do not know if you knew, but the environment in which we find ourselves influences a large percentage about our mental state, and for this reason it is important that you make sure that you are happy every time you stay at home. I suggest these glass images framed in high quality black wood. To print the different designs, an Eco-Solvent digital print is made on photo paper with a glossy white finish. Available in different sizes.

About Arashi Yuka
Do you want to know if Arashi is my name?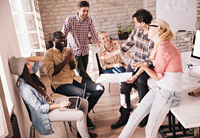 The truth is that no, I'm sorry, and I do not have a moving or exciting story that makes me opt for such a complicated pseudonym. I remember that a few years ago, when I was a child, my interest in becoming an artist began to awaken ... I needed a pseudonym! That's how my passion for idols like Takeshi Obata or Akira Toriyama brought me a first name that sounded a little "Japanese".
If you want to know more about me or know a little more about what you can try, you can contact me directly.
I give you theopportunity to get an idea of how these products can decorate your life and become essential items. Get to know the catalog of t-shirts, jerseys, pillow covers, notebooks, iPhone cases, decorated mugs and other personalized products.
Subscribe to the NEWSLETTER
Stay informed of all the news and get private discounts of up to 10% on your next purchase. About Arashi Yuka.