About Arashi Yuka
Do you want to know if Arashi is my name?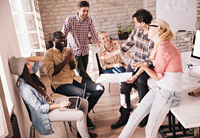 The truth is that no, I'm sorry, and I do not have a moving or exciting story that makes me opt for such a complicated pseudonym. I remember that a few years ago, when I was a child, my interest in becoming an artist began to awaken ... I needed a pseudonym! That's how my passion for idols like Takeshi Obata or Akira Toriyama brought me a first name that sounded a little "Japanese".
If you want to know more about me or know a little more about what you can try, you can contact me directly.
Quality
"Quality means doing it right when no one is looking"
Henry Ford
I have dedicated this small section to share with you images about different articles so that you can get an idea about the quality offered by the different stores to which I give designs. Also in each one I describe the characteristics to be highlighted. Go ahead and know the quality of the articles and, if you still have doubts, you can contact me.
Whenever possible, I choose to work with biodegradable products, high quality and treated as they deserve, to propose the best personalized items.
Shipping & Returns
The stores I propose are the Tostadora, based in Barcelona and TEEPUBLIC, based in the United States. If a national order is required, the shipping costs will be 5-6 euros and the delivery time will be approximately 2-4 days. If you need an international order, the shipping costs amount to 8 euros and the delivery time as well, up to 1 week.

The two stores seek customer satisfaction. Therefore, when you receive your order, if something does not convince you, return it within 30 days from when it reaches your hands. On both websites, the link for returns appears next to the footer.
---
Sizes and Settings
The two stores that I propose have detailed guides for the sizes of their articles. Once you choose your item and before making any purchase, just be sure to check them.
Payments Methods
Personally, I recommend using PayPal for the guarantee and security it offers as the main payment gateway, but if you do not share this opinion, do not worry, you can always pay with your favourite card.
---
Secure Shopping Guarantee
You should know that the Tostadora and TEEPUBLIC use the industry standard encryption protocol known as Secure Socket Layer (SSL) to keep your order information secure.

Subscribe to the NEWSLETTER
Stay informed of all the news and get private discounts of up to 10% on your next purchase. About Arashi Yuka.