Man

The days of soft shirts that say nothing about your personality are over. Now you can use the new full catalog of shirts and sweatshirts for men of high quality and resistance, all personalized with original and unique designs through digital textile printing. Laugh at the world with the garment that suits you best and remember, from three items, free shipping.
About Arashi Yuka
Do you want to know if Arashi is my name?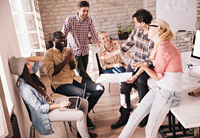 The truth is that no, I'm sorry, and I do not have a moving or exciting story that makes me opt for such a complicated pseudonym. I remember that a few years ago, when I was a child, my interest in becoming an artist began to awaken ... I needed a pseudonym! That's how my passion for idols like Takeshi Obata or Akira Toriyama brought me a first name that sounded a little "Japanese".
If you want to know more about me or know a little more about what you can try, you can contact me directly.
I give you theopportunity to get an idea of how these products can decorate your life and become essential items. Get to know the catalog of t-shirts, jerseys, pillow covers, notebooks, iPhone cases, decorated mugs and other personalized products.
Subscribe to the NEWSLETTER
Stay informed of all the news and get private discounts of up to 10% on your next purchase. About Arashi Yuka.